1491 results total, viewing 1461 - 1470
Many of the calls Officers George Ramirez, left, and Joe Diaz receive involve sorting out arguments, and Officer Ramirez said the job has made him a more patient person as a result. Here the officers …
more
12/13/01
Highlighting health care- An Advertising Special Report Dr. Sara Sigli has practiced in Riverdale for over 16 years in a modern facility. Graduated dental school in Europe in 1985. She is …
more
12/13/01
Highlighting health care- An Advertising Special Report Under the auspices of Dr. Madeline Ginzburg, the dentists at Comprehensive Dental Care have developed expertise in general, esthetic, and …
more
12/13/01
Highlighting health care An Advertising Special Report Creating good oral health care habits early on is extremely important and it's what we do best. At Riverdale Pediatric Dentistry, we create …
more
12/13/01
RIVERDALE RESIDENT Robert Marcus crosses the Queensboro Bridge on his way to work on Tuesday. He's one of several locals who commute by bike each day.
more
12/13/01
AS MANY AS eight fire trucks responded and traffic from 52nd to 252nd streets came to a standstill on Oct. 24 when an errant truck toppled temporary supports for a Henry Hudson Parkway overpass.
more
12/13/01
ELEVEN-YEAR-OLD Nick DeJesus persuaded his family to make room for four chickens in their North Riverdale backyard. Now they're up to their ears in eggs and loving every minute of it.
more
12/13/01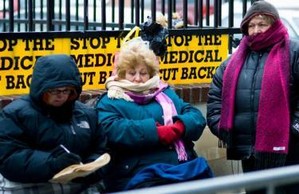 The strike at the Stella D'oro bakery on Broadway at West 238th Street is now in its fourth month and no doubt picketers, from left to right, Ana Lukaj, a 35-year employee from Yonkers, Damiana …
more
12/13/01
View PDF of 2008 crime statistics by sector
more
12/13/01
A series of photos submitted by reader Leslie Hogan with a unique perspective on an age-old tradition.
more
12/13/01